This time I bought Alverde's Reinigungsmilch Wildrose, Aqua Mattierende Tagescreme 3 in 1 Perle, Aqua Peeling Perle, Clear Gesichtstonic Heilerde and Puder Camouflage.

First, Reinigungsmilch Wildrose. I got a travel size from Izar and I loved it as a cleansing milk back then for winter (and I also foresaw that cleansing power might not be enough in summer for my oily skin and I was partly right).

I asked Izar if I could use it as a makeup remover and she said yes, but when I tried it as a makeup remover in winter with the travel size, it didn't remove my makeup very well, lots traces to be seen and I felt small bumps on my face. Needless to say, I was disappointed cause I thought it would replace my NIVEA makeup remover (I bought makeup remover from Corine de Farme and works wonderfully!). But when I finally bought a full size and use it again this time, my point of view changed, it's actually a very good makeup remover, only last time I didn't use it properly, and now I use a cotton pad to remove the cream and the melt makeup instead of rinsing it off with water and the result is dramatic! It gently removes all makeup traces (you have to massage it into your skin for a considerable time) and doesn't irritate skin, followed by toner and moisturizer (I still yet have to use Paula's Choice 2% BHA Liquid and Bio Oil), your routine is completed. :-)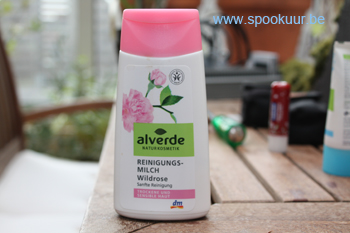 What It Is: Alverde Reinigungsmilch Wildrose 150ml

Price: €2,25

Availability: Exclusively by DM

PROs: Decent makeup remover. Doesn't irritate skin. Smells nice.

CONs: Not enough cleansing power in summer and/or for oily girls.

Verdict: 9 out of 10

°ºοº°ºοº°ºοº°ºοº°ºοº°ºοº°ºοº°ºοº°ºοº°ºοº°ºοº°ºοº°ºοº°ºοº°ºοº°ºοº°ºοº°ºοº°ºοº°

And second, Aqua Mattierende Tagescreme 3 in 1 Perle. I only found out while writing this review and checking the package that I bought the wrong one: I wanted to buy Alverde Aqua Tagesfluid Perle but in a hurry I grabbed Aqua Mattierende Tagescreme 3 in 1 Perle cause the packagings are exactly the same. And I'm glad I bought it.

It is better than Alverde Aqua Tagesfluid Perle, much better, cause it's easier to blend and the texture is "softer". I use it together with Bio Oil: I first squeeze a pea sized cream on my hand and then 2 drops of Bio Oil on it, rub with my hands and then apply on my face. It's so much better than applying them separately. And it doesn't leave residue. No weird smell either.




What It Is: Alverde Aqua Mattierende Tagescreme 3 in 1 Perle 50ml

Price: €3,25

Availability: Exclusively by DM

PROs: Easy to blend. Easy to be absorbed. No residue.

CONs: Not that I know of.

Verdict: 10 out of 10

°ºοº°ºοº°ºοº°ºοº°ºοº°ºοº°ºοº°ºοº°ºοº°ºοº°ºοº°ºοº°ºοº°ºοº°ºοº°ºοº°ºοº°ºοº°ºοº°

The third product is Aqua Peeling Perle, I have mixed feeling for it.

Upon opening the cap, I got the first negative surprise: it smells like a combination of alcohol (by the way, alcohol is the second on INCIS) and bathroom cleanser...!!! It's so overwhelming that I was reluctant to put it on my face...!

And the second negative surprise is the huge blue beams. They're harsh on my skin. They're even hard to smash with fingers. I much prefer NIVEA face scrub.




What It Is: Alverde Aqua Peeling Perle 50ml

Price: €1,95

Availability: Exclusively by DM

PROs: Good face scrub for the price, so once I finish it, I won't buy it again.

CONs: The smell...! The blue beams seem a bit too harsh.

Verdict: 6 out of 10

°ºοº°ºοº°ºοº°ºοº°ºοº°ºοº°ºοº°ºοº°ºοº°ºοº°ºοº°ºοº°ºοº°ºοº°ºοº°ºοº°ºοº°ºοº°ºοº°

The next product is Clear Gesichtstonic Heilerde

I'm really not demanding on toner, I've used Oshadhi Highland Lavender toner and Liz Earle toner ( they're both very very good toners and I love them a lot. Only Liz Earle is expensive and Oshadhi is not available here) as well as NIVEA ones, the difference is not really that big. Now this one claims to be good for blemished skin, so far (1 week of use) I didn't notice any change, but it's a very decent toner and keeps my face hydrated and is a good "joint" product for my cream, so I should at least give it 8.5 out of 10.




What It Is: Alverde Clear Gesichtstonic Heilerde

Price: €2,25

Availability: Exclusively by DM

PROs: ?

CONs: ?

Verdict: 8.5 out of 10

°ºοº°ºοº°ºοº°ºοº°ºοº°ºοº°ºοº°ºοº°ºοº°ºοº°ºοº°ºοº°ºοº°ºοº°ºοº°ºοº°ºοº°ºοº°ºοº°

The last product is Puder Camouflage

This is the one that I like the least out of all my Alverde items, to say the least. Or, not at all.

I discovered it on Aussen und Innen's blog and it seemed that the powder can refine large pores. That was the reason why I bought it.

It smells very weird, I can't even describe it. And although the manufacturer is thoughtful enough to enclose a sponge, it does nothing in practical. The powder, oh now that the powder, it's so cakey and the texture is all wrong. I just can't do anything right with it, it doesn't refine my pores and has no coverage and doesn't even out my skintone. Guess it's the biggest disappointment in the purchase.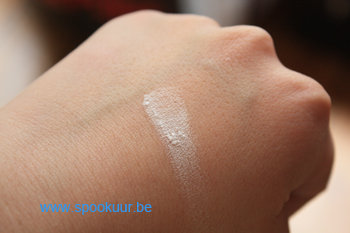 What It Is: Alverde Puder Camouflage

Price: €3,85

Availability: Exclusively by DM

PROs: Lovely box with mirror and sponge

CONs: Smell. Creates white cast. Looks cakey.

Verdict: 2 out of 10. Won't buy again.

°ºοº°ºοº°ºοº°ºοº°ºοº°ºοº°ºοº°ºοº°ºοº°ºοº°ºοº°ºοº°ºοº°ºοº°ºοº°ºοº°ºοº°ºοº°ºοº°

Last but not least, I saw a cat on our terras! Isn't she cute!?