Please don't blame me, but aren't all women easily tempted by new and lovely cosmetics? Two weeks ago Izar just tempted me once more with her successful and satisfactory purchase Labello Strawberry so I became a drool-hanging puppy again and this very Labello was the second priority on my shopping list for my Germany Daytrip. :-P

Pity they didn't have it (and don't forget that I've been to 3 DM plus 1 Galeria...!!!) so I bought this Fruity Pomegranate instead and I'm very happy with it. :-)

The packaging looks romantic! The red fruit looks promising! And it smells fruity sweet, though not necessarily pomegranate. They say there's "unwiderstchlicher Schimmer" (irresistible shimmer) but it's not too obvious and certainly not annoying on my lips. It looks so scary red in the tube but goes on sheer. I quite enjoy the sheerness too, I actually don't feel that I have any lip product on, it's just so subtle and gives a slight shine and it's of course not sticky. I'll wear it very often in the summer to avoid heavy and greasy looking lips.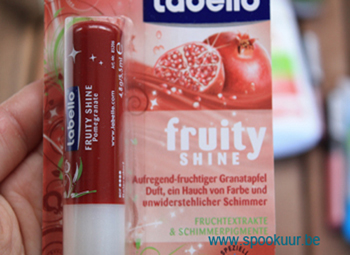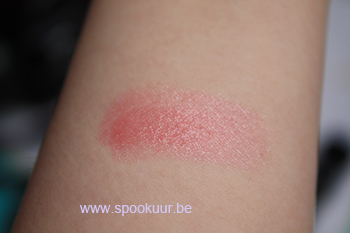 What it is: Labello Fruity Pomegranate 4,8g

Price: €1.45 (Should it be available in Belgium, the price is easily doubled, if not more...)

Availability: Practically in every drugstore.

PROs: Availability. Price. Colour. Smell.

CONs: None.

Verdict: 10 out of 10! Love it and would like to buy it again...! :-)